¿Te vas de viaje este verano? Pues merece la pena que aprendas esta selección de frases para manejarte sin problemas en el extranjero. Una de las situaciones más comunes será pedir en un restaurante en inglés y de ahí el motivo de este post. Vamos a enseñarte algunas preguntas para que vayas a comer donde quieras y todo vaya de cine. 
Saber inglés es muy importante para viajar, y como no queremos que te sientas abrumado, este contenido te lo dedicamos. No queremos que te pierdas ninguna comida por no saber desenvolverte. 
Vamos a darte vocabulario de utilidad y algunas pautas para que puedas realizar una reserva, hacer tu pedido y también solicitar la cuenta. 
Cómo reservar una mesa en inglés
Si no quieres quedarte sin comer cuando estás de viaje, vas a tener que aprender a pedir en un restaurante en inglés. Necesitarás conocer cierto léxico y expresiones habituales relacionadas con este contexto. 
Lo primero que tendrás que hacer es reservar mesa, bien por teléfono, por internet o en el restaurante.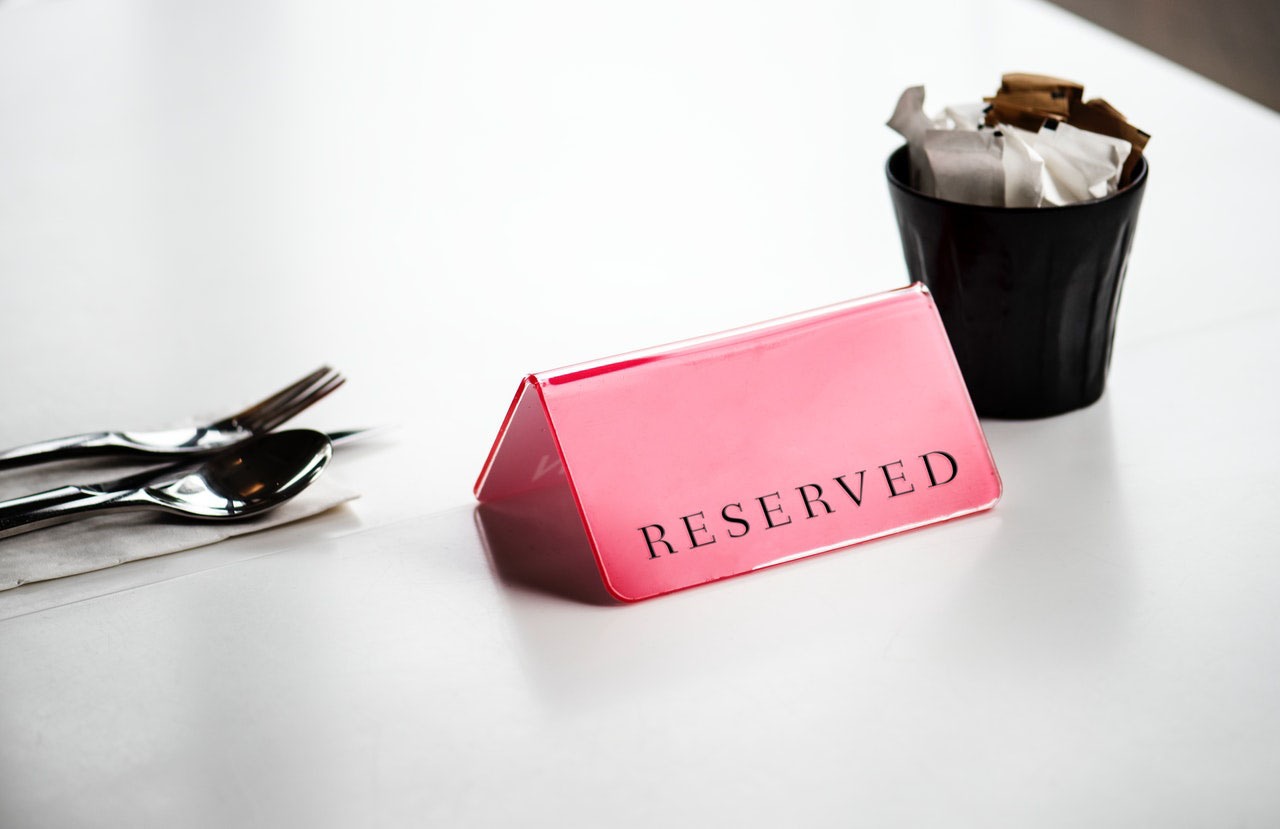 Algunas de las frases que puedes utilizar son: 
Good afternoon/ Good Morning
I'd like to book a table for this evening at 9:30 if possible.

Me gustaría reservar una mesa para esta noche sobre las 21.30 si es posible. 

Do you have a table for one by any chance?.

¿Tiene mesa para uno por casualidad?

Do you have any tables available for this evening?.

¿Tiene alguna mesa disponible para esta noche?

Do you have any free tables?.

¿Tiene alguna mesa libre?

I'd like to make a reservation.

Me gustaría hacer una reserva. 
Cuando llegues al restaurante, recuerda decir que tenías una reserva así:
Hello/Good morning/ Good evening
I have a reservation for two under the name of Lilith.

Tengo una reserva para dos a nombre de Lilith. 

I've booked a table for 9:00 p.m under Mrs Jameson.

He reservado mesa a las 21:00 para Mrs Jameson. 
Cómo pedir comida y bebida
Para pedir en inglés en un restaurante, vas a necesitar cierto vocabulario. Mira este listado con nombres de platos y comida que te resultará de utilidad. 
Starter:

entrante.

Main course:

plato principal.

Side dish:

acompañamiento.

Dessert:

postre.

Beverage:

bebida.

Tap water:

agua de grifo.

Meat:

carne.

Fish:

pescado.

Shellfish:

marisco.

Veggies:

vegetales, verduras.

Eggs:

huevos.

Broth:

caldo.

Rice:

arroz.

Pasta:

pasta.

Nuts:

nueces.

Wheat:

trigo.

Chicken breast:

pechuga de pollo.

Roast beef:

rosbif.

Medium-rare:

no muy hecho.

Medium:

hecho.

Well done:

bien hecho.

Dressing:

aliño.

Dairy products:

lácteos.

Sandwich:

bocadillo.

Snack:

tentempié.

I'm vegetarian:

soy vegetariano/a.

Vegan option:

opción vegana.

I'm allergic to shellfish:

tengo alergia al marisco.

I'm on a diet:

Estoy a dieta.

I'm severely allergic to…:

soy muy alérgico a…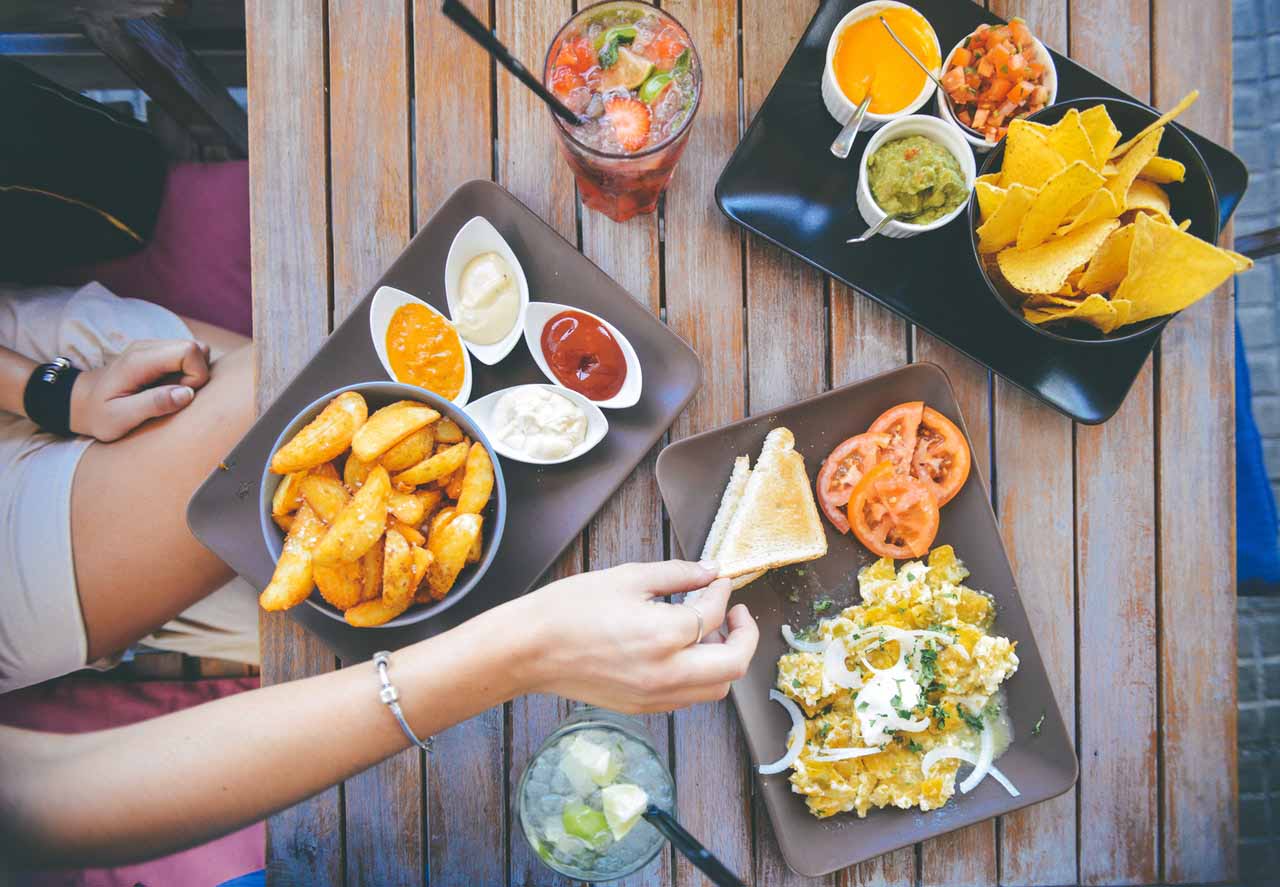 Empieza a pedir tu comida:
Could I see the menu, please?.

¿Podría ver la carta?

Do you have any specials?.

¿Tiene algún plato especial?

What is the soup of the day?.

¿Qué es la sopa del día?

What do you recommend me?.

¿Qué me recomienda?

What's this dish?.

¿Qué es este plato?
Y a continuación, pide tu bebida:
Could I have a beer please?.

¿Podría traerme una cerveza, por favor?

Could I have some tap water please?. ¿

Podría traerme agua de grifo, por favor?

Could I see the wine list, please?.

¿Podría ver la carta de vinos, por favor?

Could we have another bottle of wine?.

¿Podría traernos otra botella de vino?
Cómo hacer preguntas sobre los platos
Es muy probable que cuando vayas a comer por ahí, te surjan dudas o quieras hacer cambios. Para ello, debes ser capaz de plantear cuestiones básicas:
Does the steak come with salad?.

¿El filete va acompañado de ensalada?

Does the soup have garlic in it? .

¿La sopa lleva ajo?
Si sufres algún tipo de alergia, intolerancia o sencillamente, no te gusta algún ingrediente:
Could you please remove the nuts from the salad?.

¿Por favor, podría quitar las nueces de la ensalada?

Is it possible to have the rice with no tuna in it?.

¿Es posible que me traiga el arroz pero sin atún?

I'm allergic to chilli, is it possible to remove them?.

Soy alérgico al chilly, ¿podría quitarlo?
¿Quieres pedir algo más?
Si es el caso debes saber expresarte. Con frases como estas, no tendrás problema para hacerte entender. Te lo garantizamos.
Excuse me, 
Could I have some more water please?.

¿Podría traerme más agua, por favor?

Could we have some more bread, please?.

¿Podría traerme más pan, por favor?

Can we have another teaspoon, please?.

¿Podría traerme otra cuchara, por favor?

Is it possible to have some salt, please?.

¿Si es posible, podría traerme más sal, por favor?

Can we order another manhattan?.

¿Puedo pedir otro cocktel manhattan?
Vocabulario sobre utensilios para comer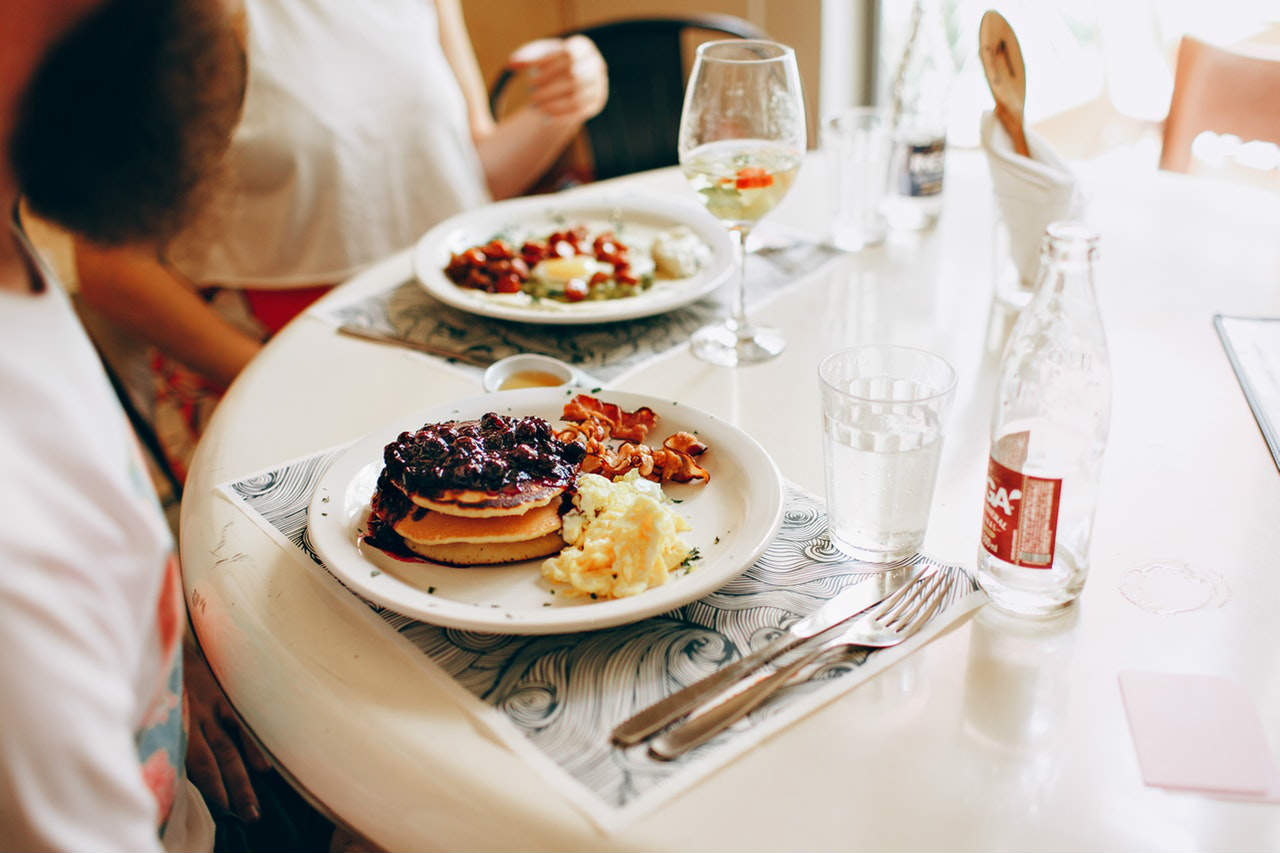 En plan muy básico, te lanzamos un breve listado de léxico que debes conocer si vas a pedir en inglés en un restaurante.
Glass:

vaso.

Cup:

taza.

Napkin:

servilleta.

Plate:

plato.

Bowl:

bol.

Knife:

cuchillo.

Fork:

tenedor.

Spoon:

cuchara.

Cutlery:

cubiertos.
Después de comer en un restaurante
Tras los platos principales, es muy probable que te pregunten si deseas algo más: 
Can I get you anything else?
Could I have a look at the dessert menu please?.

¿Podría echar un vistazo a la carta de postres, por favor?

Do you have any desserts?.

¿Tiene algún postre?

Could I see the dessert menu?.

¿Podría ver la carta de postres?
Si no te hace falta nada más:
No, we're fine thank you.

No, estamos bien, gracias. 
Solo la cuenta:
Can I get the bill please?

¿Puedes traerme la cuenta?
Ahora a continuación, te indicaremos más formas de pedirla.
Ha sobrado comida y quieres que te la pongan para llevar:
Could you put this in a doggy bag for me please?.

¿Podríar ponerme todo esto en una bolsa para llevar?
Cómo ha ido todo
Si has comido en un buen restaurante, lo normal es que te pregunten si todo ha ido bien: Was everything ok for you?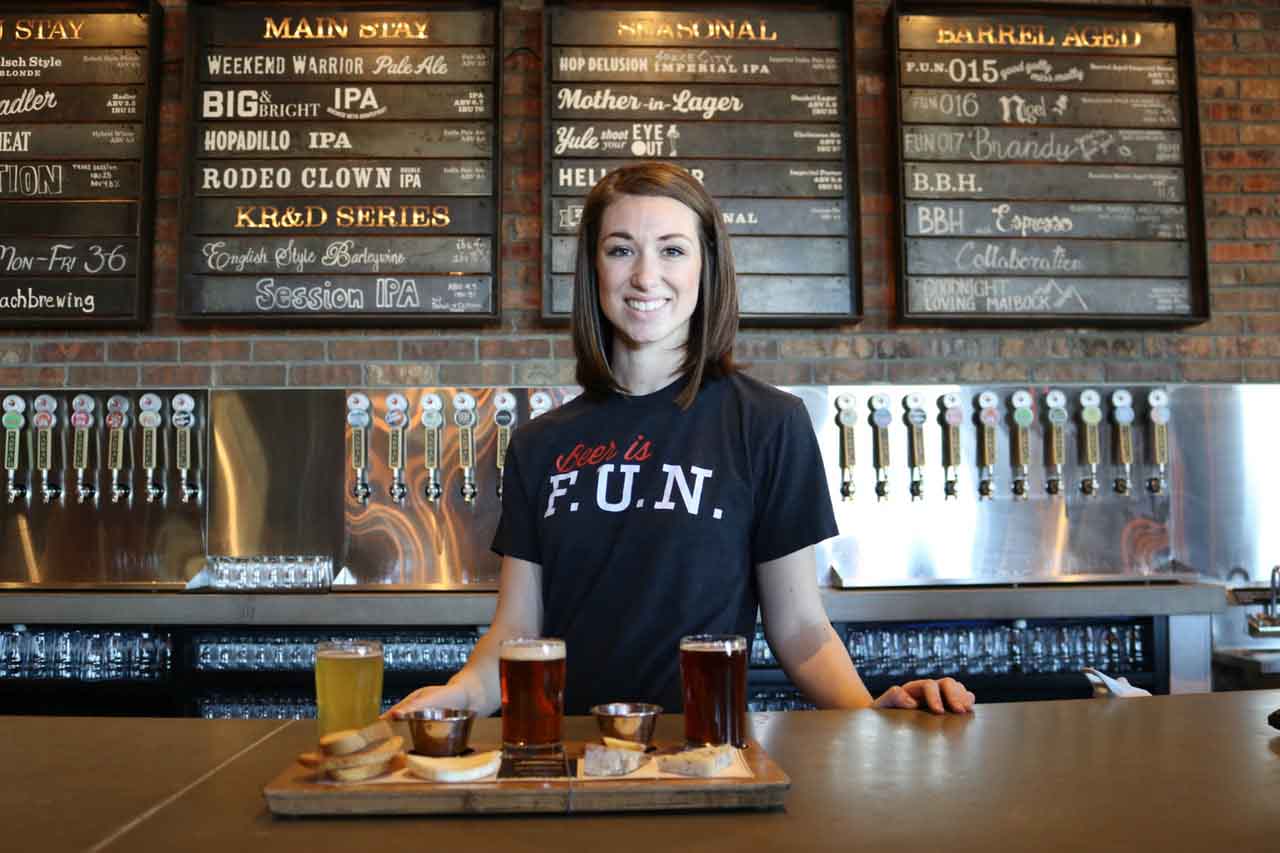 Si todo está bien puedes decir: 
Everything was delicious.

Todo estaba delicioso. 

It was lovely, thank you.

Fue maravilloso, gracias. 

Thanks, that was delicious.

Gracias, estaba delicioso.

It was absolutely fantastic! Compliments to the chef.

Estaba todo absolutamente fantástico. Enhorabuena al chef.
Si tienes alguna pega sobre el servicio o la comida:
The steak was a little bit tough.

Es decir, la carne estaba dura.

The fish was a bit raw

. El pescado estaba crudo.

The pasta was slightly overcooked.

La pasta estaba demasiado hecha.

This isn't what I ordered.

Esto no es lo que había pedido.

This food's cold.

Esta comida está fría.

This is too salty.

Esto está demasiado salado.

This is doesn't taste right

. Esto no sabe bien.

We have been waiting a long time

. Hemos estado esperando mucho rato.

Is our meal on its way?

. ¿Está la comida en camino?
Cómo pedir la cuenta en inglés en un restaurante
Queremos que disfrutes de la comida, pero no que te vayas sin pagar por no saber pedir la cuenta, así que es momento de aprender algunas maneras de pedirla.
Para referirnos a la cuenta, usaremos la palabra "bill":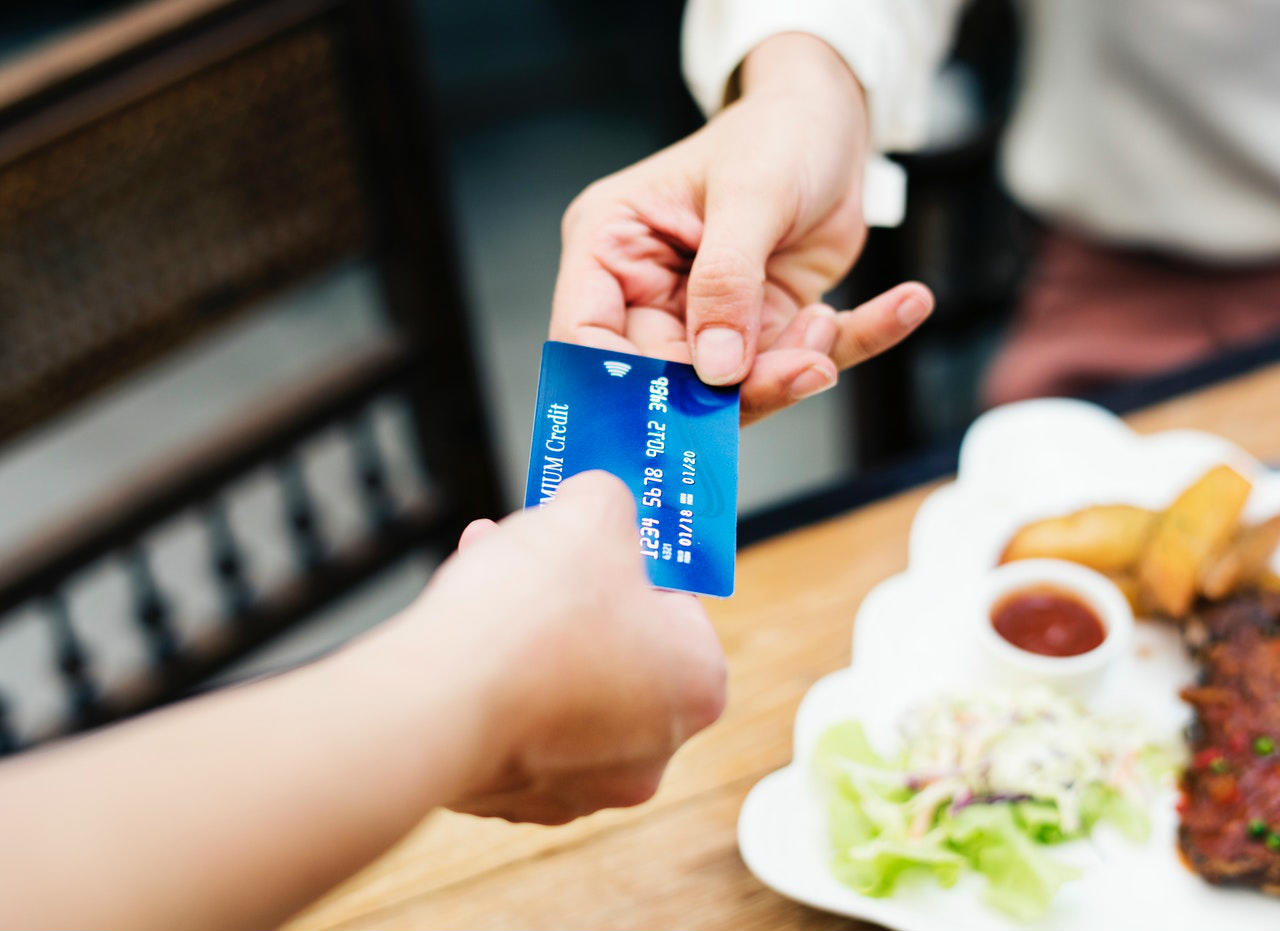 May/could we have the bill?

. ¿Me puedes traer la cuenta?

The bill, please.

La cuenta, por favor.

Pay the bill.

Pagar la cuenta.

Check please.

Cuenta, por favor.

Can I pay with card?.

¿Puedo pagar con tarjeta?

Can we pay separately?

. ¿Podemos pagar por separado?
No te olvides de dejar una propina( o tip, como lo llaman los angloparlantes). Dependiendo del país en el que te encuentres, se trata de una parte del sueldo que percibe el empleado. En algunos sitios, está incluida en la factura, en concepto de "service charge".
Más expresiones útiles en inglés
Enjoy your meal!.

¡Que aproveche!

Can I take your order?.

¿Puedo tomarles nota?

What do you recommend?

. ¿Qué recomiendas?

Sir, are you ready to order.

Señor, ¿está listo para pedir?

Excuse me, there is a mistake, I didn't order this, I'm allergic to gluten.

Perdona, hay un error, no he pedido esto, soy alérgica al gluten.

How would you like the meat cooked? ¿Rare, medium or well done?.

¿Cómo le gusta la carne? ¿Poco hecha, al punto o muy hecha?

Would you like to taste the wine.

¿Le gustaría probar el vino?

I booked a table in my favourite restaurant

. Reservé una mesa en mi restaurante favorito.
¿Es fácil, verdad? Con estas frases y vocabulario te irás manejando sin problema. Si vas a viajar en avión, echa un vistazo a estas 8 preguntas que debes entender.
https://cenathalie.com/wp-content/uploads/2019/07/Nathalie-language-experiences-blog-pedir-en-ingles-en-un-restaurante.jpg
900
1600
Remedios Gómez Alonso
https://cenathalie.com/wp-content/uploads/2019/10/NLE-logo-n20-website.png
Remedios Gómez Alonso
2019-07-11 10:07:42
2019-07-11 13:27:59
Cómo pedir en un restaurante en inglés